Today morning I came with the duty of facilitating a retro together with my teammate, he and I the day before agreed to prepare it a little bit on our own in order to come the following morning with some ideas, we wanted to surprise the people that normally facilitate retros in their daily basis!
So, to Check In we used a funny and quick activity in order to know how the team was feeling in the meeting if they were attending the retro because they really want to contribute, or because they didn't want to come but they had to? so to know those things we used:
ESVP – Explorer, Shopper, Vacationer, Prisoner
Each team member basically added a post-it in the area they think they are in this moment, in case you didn't see the page linked above
Explorers: Are eager to discover new ideas and insights. They want to learn everything they can about the iteration/release/project.
Shoppers: Will look over all the available information, and will be happy to go home with one useful new idea.
Vacationers: Aren't interested in the work of the retrospective, but are happy to be away from the daily grind.
Prisoners: Feel that they've been forced to attend and would rather be doing something else.
So at the end of the activity, we saw what we expected, all the people was in the Explorer side except 1 person that was feeling more like in the Vacationer side.
After a quick chat about the result we moved forward to the part of gathering data, we though in an activity Team Radar.
We basically listed some factors that would determine how we perceive our work as Agile Coaches, so we added at the top of each line a factor, for example, one of them could be Creating Independency, then, once all the factors were written we asked each of the coaches to score each factor based on what they think, the scores were from 0 to 10, where < 5 means not so good and > 5 means is good, while they were adding the scores individually they were also arguing why they decided to score with that numbers.
Note: Once the retro was finished my teammate and I find out that is better if we ask them to write the scores in a post-it before starting adding the score the wall, why? because then they are not going to be influenced by others scores.
Our goal was to get the factor with fewer votes and discuss further and then come up action points, the team agreed in the factor and we continued with another activity, we create the activity based on Force Field Analysis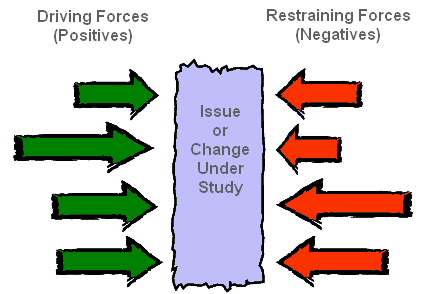 We added the factor in the middle of Driving Forces and Restraining Forces, each team member had to add a 1 or 2 post-its in each side, this was quick and we proceeded with the voting, each team member had 3 votes for each side, with the votes we wanted to come up with the most popular driving forces and restraining forces.
For the Driving Forces we talked about how we can even empower them more, make them more powerful, for this side of the column we didn't come up with any action points, we focused our energy on action points for Restraining Forces that we will discuss in the next retro!